This case study explores redesigning a digital product for the
Edmonton Global
 in order to meet business and expansion goals. I had the opportunity to work with an innovative team of UX designers & engineers to further develop my UX research and UI designs.
Edmonton Global's vision is to make the Edmonton Metropolitan Region the choice location for global investment. To attract investment and quality jobs to the region, our strategy is to strengthen and support growth, innovation, and competitiveness — all in collaboration with the region's 15 municipalities.
The purpose of Edmonton Global  is to radically transform and grow the economy of the Edmonton Metropolitan Region. Their work promotes the region globally and we're focused on attracting and retaining business investment and trade right here.
As competition among regions increases, economic development organizations (EDOs) continue to develop plans and campaigns to brand and market their states as great places to live, work, visit, and do business. The effectiveness of such campaigns is mixed, often reflecting the authenticity of the message and the extent to which it reaches targeted audiences. 
With the growth of their audience and their recent expansion, our starting point was to focus on highlighting metro region potential, focusing on key sectors that are primed for growth and investment, & expanding language accessibility.
Our team aimed to keep Edmonton's mission statement prevalent while we collaboratively worked on each stage of the process. 
"Edmonton Global is focused on becoming globally competitive and sustaining economic growth requires a strong team, disciplined vision, and a focus on inclusivity and accountability."
Before we could determine the how of what we were solving, we had to determine the why. This required looking at the existing IA of Edmonton's Global digital experience.
Top Competitors (Web)
We then examined top competitors in the economic development areas of strength and weakness.
FINDINGS:
• Explore Edmonton featured rollover effect applied to "call to actions" in Discover section
• Invest in Canada invested in cinematic photography and uses slanted graphic design in responsive design.
• Invest Alberta is minimal but easy on the eye, bold type & hierarchy throughout site.
We interviewed an audience of 3 C-level business executives and 3 non-executives. We used these interview to identify pain points and opportunities. Edmonton Global does not currently have survey site and
we wanted to use the user interviews to discover if the current website needed improving or if another digital solution was needed.
From there we began our synthesizing process through Affinity Mapping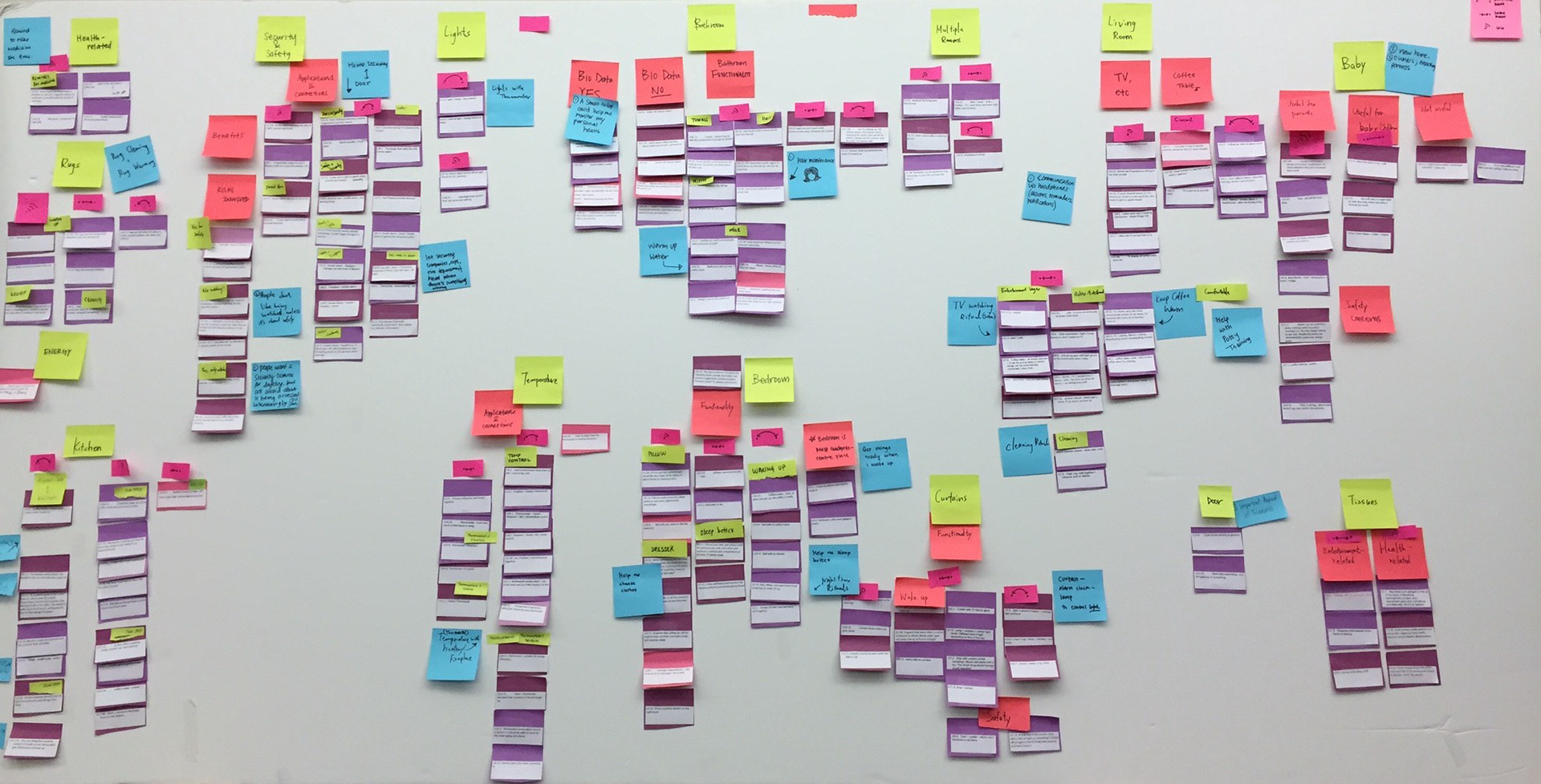 We found that in speaking to these 6 users that they had a lot to say. After a few attempts we eventually separated the data by pain points and want.

*By focusing on which topics have the most dominating presence in the pain points and the wants categories, we realized that there were three main issues.
1. Maps
2. Events
3. Resources
Now that we understood the what and the why, the how could be properly addressed. Our users wanted real-time information and data, map access, and downloadable resources to take away. The solution for these  problems needed to digital upgrades and access to print brochures.
We used these insight to create 2 personas.
Edmonton Global visitors need a way to access on-the-go, real-time information about researching property sites, organizing their visit, and navigating the website. This lack of information has resulted in decreased attendance and customer satisfaction.
*By providing visitors with a new Edmonton Global Website we will solve for their physical needs such as providing updated site selector information, maps, events, and on-site downloadable resources.
Enhance communication 
Elevate the visitor experience
Increasing frequency of visits and revenue

Website downloads and retention rates
Visitor attendance 
Customer relationship management (CRM) scores
Competitive Analysis (Web)
To help identify current ways to incorporate these solutions on the website, we went back and did a new competitive analysis..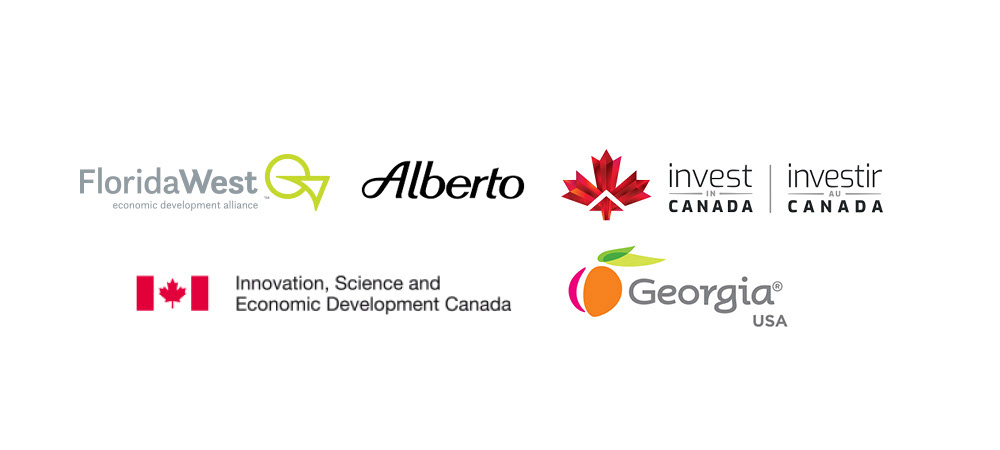 70% used bottom sticky nav
All had map feature; custom illustration  vs. google maps 
Pre-populate search with popular search terms 
"Emerging Stories" category to manage expectations 
Task Analysis
To get a greater understanding of the current exploration process before creating a user flow for the app we did a task analysis with two participants. 
The task was downloading an site prospectus on the Edmonton Global website, one user from their phone and the other from their laptop. 
It took an average of 4 steps and 45 seconds to complete the task. 
Both users found the process effiecent.
We created a user flow for both personas to illustrate research finding from our affinity mapping, task analysis and journey map.
LI:
Solved for Language, Data, and Downloadable(s) 
ADAM:
Solved for Property and Contact Accessibility
We did 3 rounds of usability testing with 2 people per round
To download brochures
To quick link to data information
Using our MVP we designed the Edmonton Global website  to solve for
:
Maps
Resources
MetroRegions
Downloadable(s)
*USABILITY TESTING INFORMED US AS TO HOW SUCCESSFUL WE WERE AT ACHIEVING THESE GOALS.
*High Fidelity Wireframes
Reviewing Li Xiang's experience after solving for the various pain points involving exploring the site and accessing PDF downloads. 
Reviewing Adam Kelley''s experience after solving for the various pain points involving exploring the site, touring sites, and contacting properties for next steps. 

Interviewing "no"s from screener survey
Explore Google Map/ Real-Time potential
Higher fidelity prototypes

Using Google analytics to determine how many visitors/ time spent on site
Using the search to highlight 'featured' & 'availability'
Highlighting the Chat bot feature
Work with marketing to offer an incentive to increase brochure downloads like advertisements or access to "priority listings".